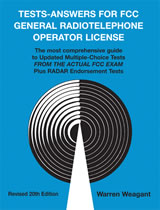 Recently, we completed a crash research effort to find out why so many people were missing questions on the FCC exam. Here's what we discovered. There are literally hundreds of text books on electronics published today - but none explain how to easily answer questions found on actual FCC exams. These books just gloss over the subject and leave the reader wondering.

That's why our FCC LICENSE HOME - STUDY COURSE was developed - to provide you with clear pictorial examples, simple step-by-step solutions and reliable answers for FCC exam questions. Plus, you will be taught all the important basic principles behind the material you will need to know to get your license.
What's Included

* 8 CDs with audio CD lessons: These discussions provide easy to
understand information covering the answers to the FCC exam questions.

* Tests-Answers for FCC General Radiotelephone Operator License.
The complete set of all multiple-choice exams - each question and answer is
an exact word-by-word copy of the actual FCC government test.

* The Complete Electronics Theory Training Guide - An in-depth training
manual in plain, everyday language and simplified picture diagram
examples provide easy understanding of all important electronic
fundamentals.

* Simple step-by-step "Self-Study" Home-Study notebook and course outline.

Course Outline
Matter Energy Principles
Batteries & Direct Current
Concepts of Alternating Current
Inductance & Capacitance
Basic Test Equipment
Equipment Requirements
License Requirements
Log keeping
Rules & Regulations
Operating Procedures
Distress Communications
GMDSS Communication
VHF& MF-HF Equipment
UHF& Microwave
Antennas
Emergency Radio Equipment
Survival Craft
Electronic Principles
Frequency & Waveforms
Electronic Components
Tolerances, Identification
Circuits
Digital Logic
Receivers
Transmitters
Amplitude Modulation
Frequency Modulation
Single Sideband
Mixers & Converters
Power Sources
Display & Control Systems
Aircraft
Installation
Maintenance & Repair
Communications Technology
Marine Communications
Radar Principles
GPS
Satellite Communications
Test Taking Tips Final Exam - Passing the FCC Exam
Everything is carefully prepared and edited to give you maximum focus towards successfully passing the actual FCC exam.